당사는 2011년 부터 하와이 마우이섬의 호노룰루시가 당면한 폐기물 처리문제 해결을 위해 추진 중인 프로젝트에 참여하고자 많은 사전 조사 및 준비를 해온 결과 매우 우수한 기술력을 보유한 폐기물 에너지화 플랜트라는 현지 전문가 및 관계자들의 평가를 받고 있다. 이에 호놀룰루시의 구태의연한 폐기물 처리문제에 대해 항상 목소리를 높여왔던 현지 언론들의 관심 역시 당사의 폐기물 에너지화 플랜트인 HTCW에 집중되고 있어 당사의 HTCW의 프로젝트 수주가능성을 한층 높여가고 있는 상황이다.
아래는 하와이 호놀룰루시의 폐기물 에너지화 프로젝트와 관련해 현지 언론의 기사내용을 발췌한 것이다.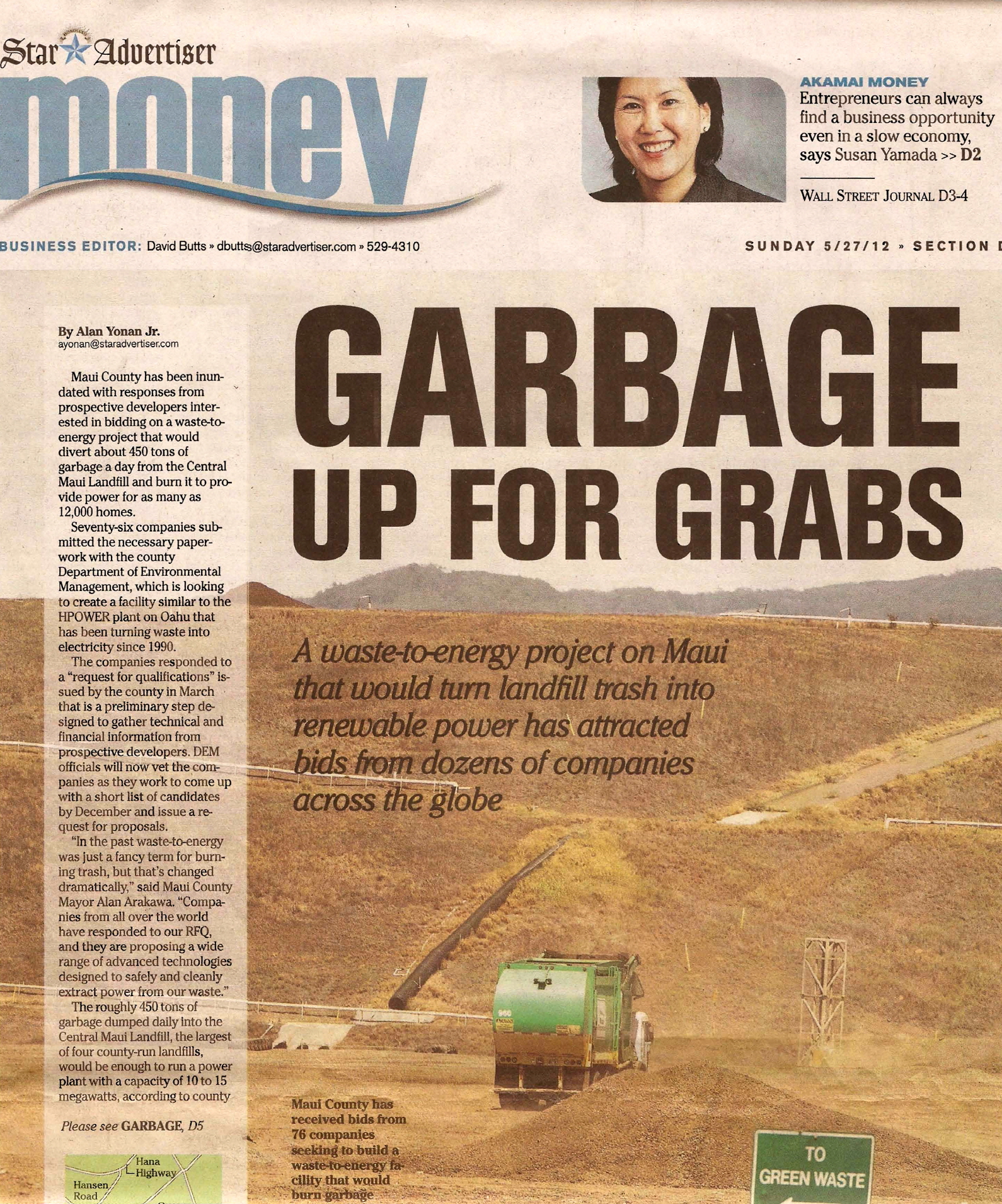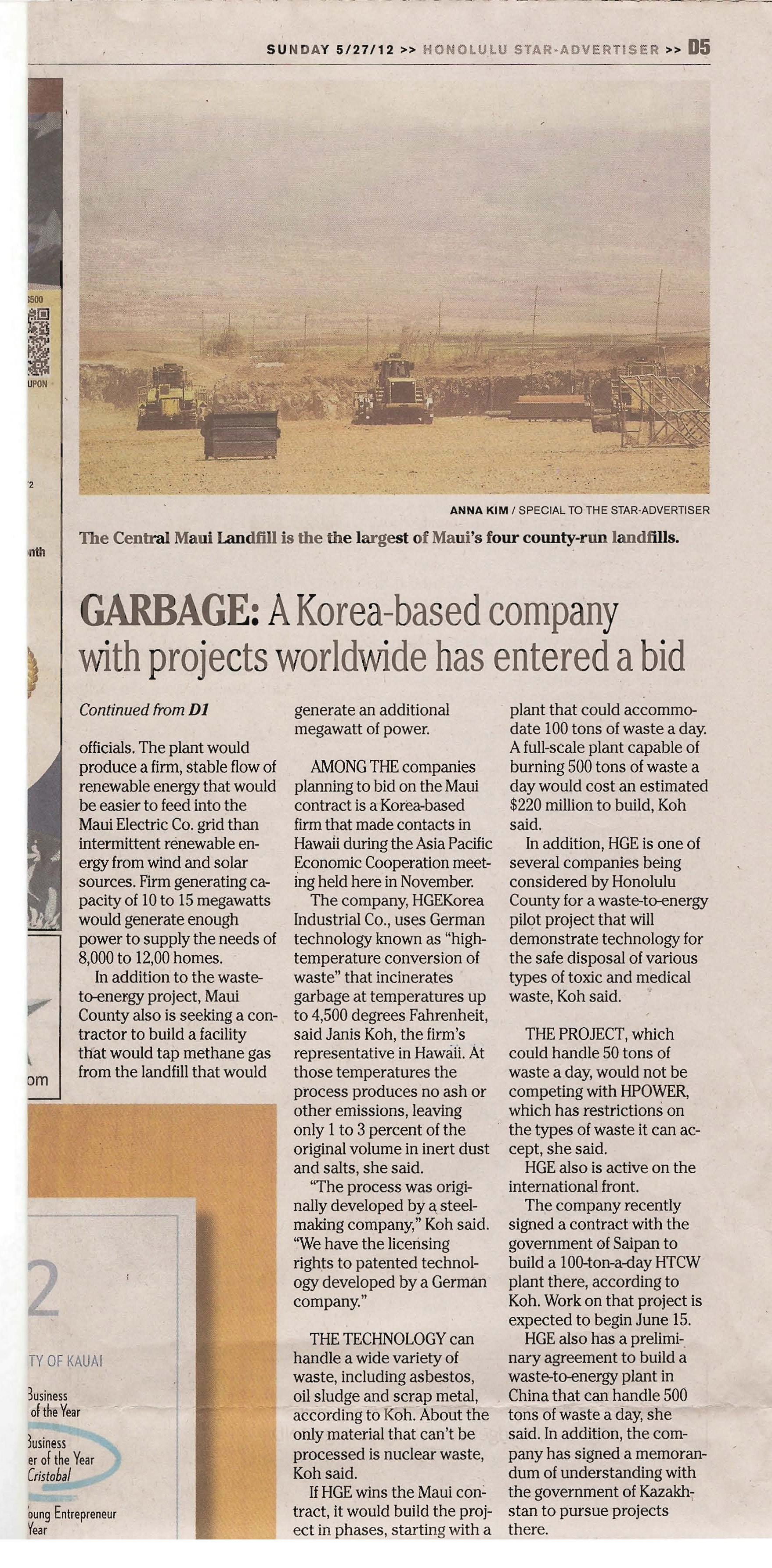 2012년 5월27일 하와이 호노룰루 일간지 Honolulu Star Advertiser의 Money Section 1면에 보도된 당사 관련 기사전문
Garbage up for grabs
A waste-to-energy Project on Maui that would turn landfill trash into renewable power has attracted bids from dozens of companies across the globe
By Alan Yonan Jr.
ayonan@staradvertiser.com
Maui County has been inundated with responses from prospective developers interested in bidding on a waste-to-energy project that would divert about 450 tons of garbage a day from the Central Maui Landfill and bum it to provide power for as many as 12,000 homes.
Seventy-six companies submitted the necessary paperwork with the county Department of Environmental Management, which is looking to create a facility similar to the HPOWER plant on Oahu that has been turning waste into electricity since 1990.
The companies responded to a "request for qualifications" issued by the county in March that is a preliminary step designed to gather technical and financial information from prospective developers. OEM officials will now vet the companies as they work to come up with a short list of candidates by December and issue a request for proposals.
"In the past waste-to-energy was just a fancy term for burning trash, but that's changed dramatically," said Maui County Mayor Alan Arakawa. "Companies from allover the world have responded to our RFQ, and they are proposing a wide range of advanced technologies designed to safely and cleanly extract power from our waste."
The roughly 450 tons of garbage dumped daily into the Central Maui Landfill, the largest of four county-run landfills, would be enough to run a power plant with a capacity of 10 to 15 megawatts, according to county officials.
GARBAGE: A Korea-based company with projects worldwide has entered a bid
The plant would produce a firm, stable flow of renewable energy that would be easier to feed into the Maui Electric Co. grid than intermittent renewable energy from wind and solar sources. Firm generating capacity of 10 to 15 megawatts would generate enough power to supply the needs of 8,000 to 12,00 homes.
In addition to the waste-to-energy project, Maui County also is seeking a contractor to build a facility that would tap methane gas from the landfill that would
generate an additional megawatt of power.
AMONG THE companies planning to bid on the Maui contract is a Korea-based firm that made contacts in Hawaii during the Asia Pacific Economic Cooperation meeting held here in November.
The company, HGEKorea Industrial Co., uses German technology known as "high temperature conversion of waste" that incinerates garbage at temperatures up to 4,500 degrees Fahrenheit, said Janis Koh, the firm's representative in Hawaii. At those temperatures the process produces no ash or other emissions, leaving only 1 to 3 percent of the original volume in inert dust and salts, she said.
"The process was originally developed by a steelmaking company," Koh said. "We have the licensing rights to patented technology developed by a German company."
THE TECHNOLOGY can handle a wide variety of waste, including asbestos, oil sludge and scrap metal, according to Koh.-About the only material that can't be processed is nuclear waste, Koh said.
If HGE wins the Maui con~ tract, it would build the project in phases, starting with a
plant that could accommodate 100 tons of waste a day. A full-scale plant capable of burning 500 tons of waste a day would cost an estimated $220 million to build, Koh said.
In addition, HGE is one of several companies being considered by Honolulu County for a waste-to-energy pilot project that will demonstrate technology for the safe disposal of various types of toxic and medical waste, Koh said. '
THE PROJECT, which could handle 50 tons of waste a day, would not be competing with HPOWER, which has restrictions on the types of waste it can accept, she said.
HGE also is active on the international front.
The company recently signed a contract with the government of Saipan to build a 100-ton-a-day HTCW plant there, according to Koh. Work on that project is expected to begin June 15.
HGE also has a preliminary agreement to build a waste-to-energy plant in China that can handle 500 tons of waste a day, she said. In addition, the company has signed a memorandum of understanding with the government of Kazakhstan to pursue projects there.